Online Roulette Variations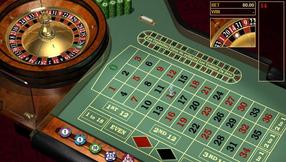 Roulette games come in two basic variations. You will find these variations both in online roulette games and in land based establishments, find this casino game here at
nternetpoker.cc
and poker games. The type of roulette game you are playing will drastically affect your odds of winning so it's important to understand both varieties.
American Roulette
With American roulette games, you are playing on a wheel with both a 0 and double 00 spot. On either number, the house will always win. This gives the American wheel a 5.26% house edge; nearly double that of the European roulette wheel. The American wheel has one option that other wheels do not with the five-number bet. This bet is placed on the 00, 0, 1, 2 and 3 and has a 7.89% house edge, making it the worst possible bet in roulette, try Paroli Craps online, it is the easiest type of craps.
European and French Roulette
Both European and French roulette games are played on what is known as a European roulette wheel, enjoy it at Diceland online. This wheel has only one 0, giving it a house edge of 2.7%. When the European wheel is played with the la partage or en prison rules, it is known as French roulette. These rules allow the player to either keep his chip on the table or keep half of his bet when the dealer spins a zero. These rules lower the house edge to 1.35% with French roulette.
It is easy for even novices to see that the American roulette wheel is the worst option to play roulette online. The European game is far better and French roulette is the very best option. Unless you're playing free roulette games, stick to the safer European wheel. The Tropez Casino offers variety of roulette online.